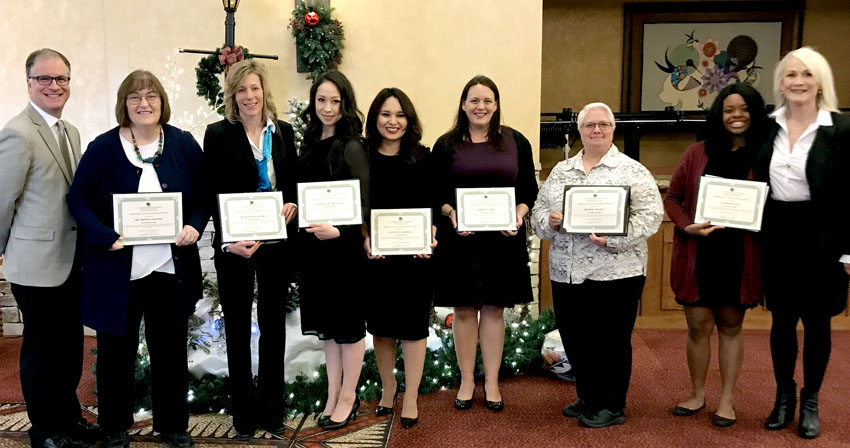 Carrington College prides itself on working with all students to ensure success in reaching their career goals. One area of focus continues to be serving the Federally recognized tribes in New Mexico; Pueblo of Acoma, Pueblo of Cochiti, Pueblo of Isleta, Pueblo of Jemez, Pueblo of San Felipe, Pueblo of Sandia, Pueblo of Santa Ana, Pueblo of Santo Domingo, Ysleta del Sur Pueblo and Pueblo of Zia.

The College was recently recognized for its work with the Southern Pueblos Agency and its Job Placement and Training Program. The agency provides services that include social services, real estate, natural resources, fire/forestry and Indian self-determination. Carrington College is able to support the agency's mission by working with Pueblo residents interested in pursuing health care careers.

"We are committed to supporting our tribal partners in New Mexico, Arizona and beyond," said Dr. Donna Loraine, president of Carrington College. "This work is foundational in supporting our goals to ease the path to higher education and career support for those with limited access."

The Job Placement and Training Program works with Carrington College and other health care schools in New Mexico to create employability workshops, helping former students and community members while also serving as a funding resource for tribal members from the ten Southern Pueblos. These workshops teach skills like job search approaches, interview etiquette and networking, helping the residents of the pueblos become better equipped to look for fulfilling careers.

Adtalem Global Education President and CEO Lisa Wardell was invited to speak at a recent Tribal Governor's Meeting. She talked about the relationship between Carrington College and Adtalem Global Education and highlighted two tribal students from the Pueblo of Jemez who graduated from Carrington College.

Arlan Romero studied to be a Pharmacy Technician and Kayla Devore studied Medical Billing and Coding. They were dedicated students who drove 120 miles round trip each day to get to school. While attending Carrington College, they were both proactive in their studies, attending certification study sessions and obtaining full time jobs in their fields. Kayla is currently working as a Billing & Coding Specialist at the University of New Mexico Cancer Center. Arlan is working at Prime Therapeutics as a Pharmacy Technician and holds his license with the Certification of Pharmacy Technicians. They are taking the first steps in what will undoubtedly be very successful careers.

"I hope to see many more graduates, just like Kayla and Arlan. The leadership of Carrington College and Adtalem Global Education are thoroughly invested in making that happen, and continuing the success of this wonderful partnership," Wardell said.

Carrington College is honored to have more than a dozen colleagues, including Dr. Donna Loraine, recognized for their work with the Southern Pueblos. An award ceremony will be held in December.
About Carrington College
Carrington College is a member of Adtalem Global Education (NYSE: ATGE), a global education provider headquartered in the United States. The organization's purpose is to empower students to achieve their goals, find success and make inspiring contributions to our global community. Carrington College offers a diverse range of programs that lead to a Certificate of Achievement or Associate of Science degree. As the starting point for health care careers, the college offers programs that prepare students for careers in the medical, dental and veterinary fields. Carrington College is accredited by the Accrediting Commission for Community and Junior Colleges, Western Association of Schools and Colleges, 10 Commercial Blvd., Suite 204, Novato, CA 94949, (415) 506-0234, an institutional accrediting body recognized by the Council for Higher Education Accreditation and the U.S. Department of Education. Additional information about accreditation, including the filing of complaints against member institutions, can be found at: www.accjc.org. Program availability varies by location. Important information about the educational debt, earnings and completion rate of students who attended Carrington College can be found at carrington.edu/GE. Carrington College prepares students to take appropriate certification and licensure exams related to their individual programs. The College does not guarantee students will successfully pass these exams or be certified or licensed as a result of completing the program. Credential preparation varies by location.

About Adtalem Global Education
The purpose of Adtalem Global Education is to empower students to achieve their goals, find success and make inspiring contributions to our global community. Adtalem Global Education Inc. (NYSE: ATGE; member S&P MidCap 400 Index) is a leading global education provider, and the parent organization of Adtalem Educacional do Brasil, American University of the Caribbean School of Medicine, Association of Certified Anti-Money Laundering Specialists, Becker Professional Education, Carrington College, Chamberlain University, DeVry University and its Keller Graduate School of Management, Ross University School of Medicine and Ross University School of Veterinary Medicine. For more information, please visit adtalem.com.
###