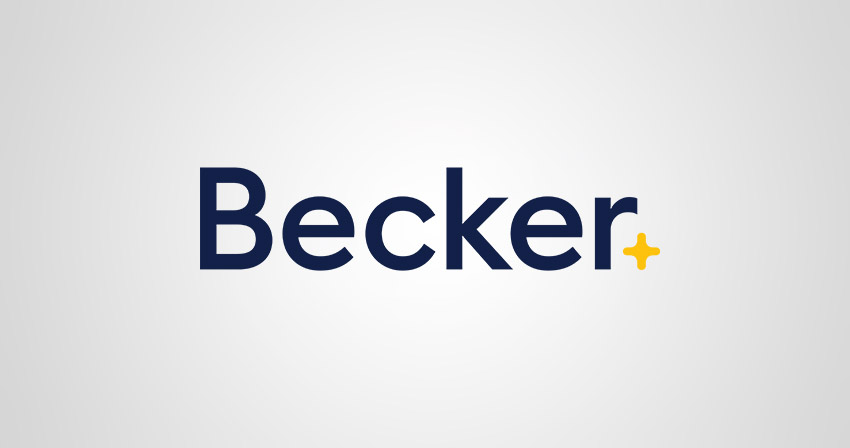 Newton D. Becker Program Provides 80 Scholarships to Assist CPA Candidates Prepping for the CPA Exam
Becker Professional Education, a global leader in professional education and a part of Adtalem Global Education, announced the recipients of more than $270,000 in scholarship funds from its annual Newton D. Becker Scholarship Program. Through this program, 80 Certified Public Accountant (CPA) candidates will receive full scholarships for Becker's CPA Exam Review.
The program, which has awarded $2.3 million to more than 1,000 students since 2013, honors Newton D. Becker, who passed away in 2012. Newton founded Becker Professional Education in 1957 and pioneered a new approach to preparing candidates for the CPA Exam. The purpose of the scholarship program is to continue Becker's legacy and help bright, dedicated students and professionals fulfill their dreams of an accounting career by earning the CPA credential.
"Everyone at Becker is passionate about preparing our candidates to pass their CPA exam, and the scholarship funds will help dozens of candidates achieve their dream," said Michael Malee, president of Becker Professional Education. "This scholarship program carries on Newton Becker's legacy and enables dedicated students and professionals across the country to pursue the gold standard in the profession: the CPA credential."
To qualify, applicants had to meet the requirements to sit for the CPA Exam at the time of enrollment, demonstrate financial need and, through a personal statement, exhibit traits important to Newton Becker: high moral character, strong leadership qualities and commitment to community service.
"I applied for the Becker Scholarship because, though I knew that I would eventually take the CPA exam, I didn't have the resources to afford the best study materials out there," said Gabriella Baltazar, 2019 Becker Scholarship winner. "With my family responsibilities, it was especially important to me to prepare well and succeed on this exam. That's where the Newton D. Becker Scholarship stepped up and really gave me the final piece I needed to tackle the CPA exam full force."
When deciding to become an accountant, Baltazar knew she would also pursue her CPA certification. To her, being an accountant with a CPA was always the end goal and a critical part of her career objectives.
"I can now confidently go forth on this journey of becoming a CPA knowing that I have the best study material in my corner," noted Baltazar. "I am so thankful for and appreciative of the Becker organization for the opportunity, and for honoring Newton D. Becker's legacy with such a beautiful gift back to upcoming generations."
For additional information, visit: www.becker.com/scholarships.
About Becker Professional Education
Becker Professional Education, a part of Adtalem Global Education (NYSE: ATGE), is a global leader in professional education serving the accounting, project management and healthcare professions. Over one million professionals have prepared to advance their careers through its CPA Exam Review, CMA Exam Review, USMLE® Review and Continuing Professional Education courses. Throughout its more than 60-year history, Becker has earned a strong track record of student success through world-class teaching, curriculum and learning tools that enable its students to develop the knowledge and performance skills necessary to stay ahead in an ever-changing business world. For more information about Becker Professional Education, visit www.becker.com or call 1-877-CPA-EXAM.
About Adtalem Global Education
The purpose of Adtalem Global Education is to empower students to achieve their goals, find success, and make inspiring contributions to our global community. Adtalem Global Education Inc. (NYSE: ATGE; member S&P MidCap 400 Index) is a leading workforce solutions provider and the parent organization of Adtalem Educacional do Brasil (IBMEC, Damásio and Wyden institutions), American University of the Caribbean School of Medicine, Association of Certified Anti-Money Laundering Specialists, Becker Professional Education, Chamberlain University, EduPristine, OnCourse Learning, Ross University School of Medicine and Ross University School of Veterinary Medicine. For more information, please visit adtalem.com and follow us on Twitter (@adtalemglobal) and LinkedIn.
Media Contact:
Ernie Gibble
ernie.gibble@adtalem.com
(630) 353-9920
Source: Becker Professional Education