2017 Commencement Brings AUC Graduates and their Families to St. Maarten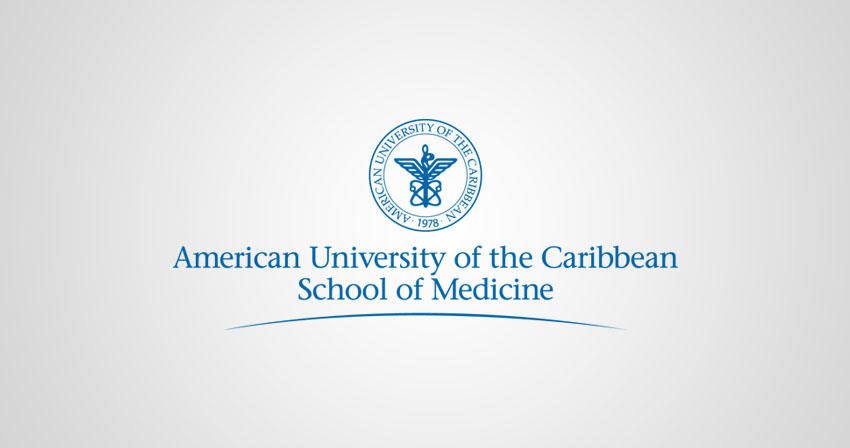 Graduates of the American University of the Caribbean School of Medicine (AUC) gathered in St. Maarten on Saturday, May 27 to attend the school's 2017 Commencement Ceremony. The event honored attendees' academic accomplishments and signaled the start of graduates' professional careers as MD-credentialed physicians.
 
Golden Jackson, PhD, Assistant Dean for Service-Learning and Community Affairs at AUC, presided over the ceremony, which included performances by the Generation New Status Drum Corps and gospel singer Angie Pantophlet; invocations and benedictions by Father Yohanes Bally; and addresses by Heidi Chumley, MD, Executive Dean and Chief Academic Officer of AUC and Dhaval Desai, MD, Director of Hospital Medicine at Emory Saint Joseph's Hospital in Atlanta and 2008 graduate of AUC.
 
Attendees gave a warm welcome to the Honorable Silveria Jacobs, Minister of Education, Culture, Youth and Sports, who attended the morning graduation ceremony. After acknowledging Minister Jacob's presence, Dr. Jackson described the significant contributions of St. Maarten and recognized the island's role in shaping graduates' understanding of global and community health issues.
 
"We would like to give an applause in thanks to the government of St. Maarten," said Dr. Jackson. "Country St. Maarten has supported AUC for many years. We deeply value the strong bond between AUC and Country St. Maarten and look forward to many years of engaged partnership."
 
Nearly 200 graduates from the United States and Canada brought family and friends to St. Maarten for traditional commencement ceremony. Newly minted-physicians walked the auditorium stage at Sonesta Ocean Point Resort to receive their academic hoods and diplomas. Among this year's graduates was St. Maarten native Neha Dayalani, who had a large group of friends and family in the audience. Dr. Dayalani, who lived in St. Maarten prior to attending AUC, will soon begin a pediatrics residency at Hurley Medical Center in Michigan. At the conclusion of the ceremony, Minister Jacobs was able to meet and congratulate Dr. Dayalani on her achievement of becoming a physician.
 
Like Dr. Dayalani, AUC graduates will soon begin residency training in various medical specialties, including family medicine, internal medicine, pediatrics, surgery, neurology, radiology, and anesthesiology. By training globally-minded physicians—many of whom enter primary care—AUC and its graduates are helping to fill critical physician shortages.
 
In her remarks, Dr. Chumley urged graduates to turn to their new profession in times of adversity and recognize the power they have as healers.
 
"No matter who walks through that door, you took an oath to treat your patients equally, to help them in their time of need," she said. "While the world will always have barriers, physicians remove them every minute of every day."
 
This year's graduates join a network of more than 6,000 AUC alumni around the world. Physicians trained at AUC go on to become competent, compassionate leaders in their field and their communities.
About American University of the Caribbean School of Medicine
American University of the Caribbean School of Medicine (AUC) is a member of Adtalem Global Education (NYSE: ATGE), a global education provider headquartered in the United States. The organization's purpose is to empower students to achieve their goals, find success and make inspiring contributions to our global community. Founded in 1978, AUC has more 6,500 graduates and is one of the oldest medical schools in the Caribbean. Dedicated to developing physicians with a lifelong commitment to patient-centered care, AUC embraces collaboration, inclusion and community service. With a campus in St. Maarten, affiliated teaching hospitals in the United States and the United Kingdom, and internationally recognized faculty, AUC has a diverse medical education program for today's globally minded physician. For more information visit aucmed.edu or follow AUC on Twitter (@aucmed).

About Adtalem Global Education
The purpose of Adtalem Global Education is to empower students to achieve their goals, find success and make inspiring contributions to our global community.  Adtalem Global Education Inc. (NYSE: ATGE; member S&P MidCap 400 Index) is a leading global education provider, and the parent organization of Adtalem Educacional do Brasil, American University of the Caribbean School of Medicine, Association of Certified Anti-Money Laundering Specialists, Becker Professional Education, Carrington College, Chamberlain University, DeVry University and its Keller Graduate School of Management, Ross University School of Medicine and Ross University School of Veterinary Medicine. For more information, please visit adtalem.com.